Isfahan in a Glance
Isfahan is an important city as it is located at the intersection of the two principal north-south and east-west routes that traverse Iran.
From 1050 to 1722, it has flourished particularly in the 16th and 17th centuries under the reign of the Safavid dynasty since Isfahan was their capital.
It is famous for its Perso-Islamic architecture, grand boulevards, historic bridges, palaces, tiled mosques, and minarets. Isfahan also has many historical buildings, monuments, paintings.
This city is known as "Nesf-e-Jahaan" which means half of the world. It is given to this city because of its several wonders and beauties.
Climate
The western and central parts of the province are mountainous with a mild and dry climate. But the east and northeast regions are hot and dry. Because the Dasht-e Kavir, Iran's largest desert, surrounded these regions. Also, there is a river flowing from the east to the southwest of the province which people call it Zayenderood. Actually, Zayenderood means the fertile river. It is obvious from its name that how Isfahan's climate depends on this river.
In fact, Zayenderood has two effects on Isfahan's climate: the First one is watering the plain. Many canals distribute Zayenderood's water within the plain and this is why this name is given to the river. The second effect is to cause humidity. Without Zayenderoud, half of the world is so dry.
City of Isfahan
As it is already said, Isfahan is located in the lush plain of the Zayanderoud (river), at the foothills of the Central Mountains. The city enjoys temperate weather and regular seasons. There is no geological obstacle within 90 km further to the north of Isfahan on the way of northern cool winds.
Situated at 1590 meters above sea level, it receives an average of 355 mm of rain per year. Also, the temperature ranges between 2 and 28°C. Isfahan experiences an excellent climate with four distinct seasons. Isfahan is also home to many of Iran's sites that are inscribed on the UNESCO World Heritage list.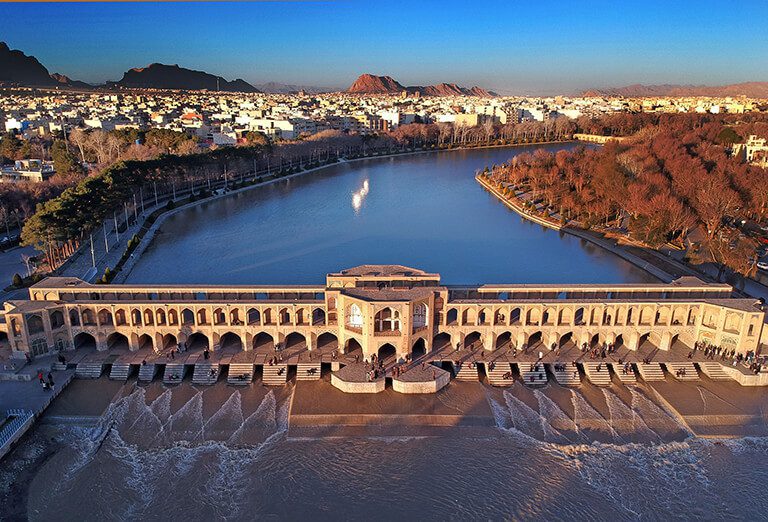 Local Crafts
Isfahan is one of the centers for famous Persian carpets and rugs weaving. It flourished in the Safavid era more than ever. At that time, artisans started to weave Safavid designs. So once again, Isfahan became one of the most important nexuses of the Iranian rug weaving industry. Its carpets today are among the most wanted in international markets and have so many customers in western countries.
Isfahanian rugs and carpets usually have ivory backgrounds with blue, rose, and indigo motifs. In addition, they often have very Symmetrical, balanced designs and excellent quality. Other crafts include penmanship, enamel work, inlaid work, silvery, ceramics, tiles, and crockery. Also, do not forget to try gaz and poolaki, special sweets of Isfahan.
Historical sites in Isfahan Province
Ali Qapu Palace
Chehel Soton Palace
Hasht Behesht
Famous bridges of Si-o-Se Pol over the Zayanderoud, Khajou, Shahrestan, Marnan
Caravansaries of Sheikh Alikhan, Mahyar, Sara-ye- Sephid
Monar Jonban (a famous minaret)
Atashgah (Zoroastrian Fire Temple)
Meydan-e Kohneh (Old Square)
Inscriptions of Abusaid Monastery, Entrance of Ghaysar-e-yeh Bazaar, Haron Valayat
Old schools of Chahar Bagh, Baba Ghasem, Mullah Abd Allah, Mirza Hassan, Kaseh Garan, Jalaliye
Old houses like Amin-O-Tojar or Molla Bashi House
Old pigeon towers
Jogand Caravanserai
Fin Persian Garden
Old houses caravansaries of Jogand, Gomrok, Moteh
Museums of Fin Gardens and National Museum of Kashan
Tour Caravanserai is in Golpaygun
Mansions of Taj Abad is Natanz
Ouyi Underground city

in Kashan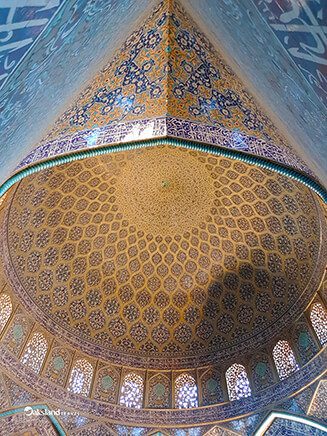 City of Kashan
Kashan is another jewel city in the province. It is an ancient city and according to the archaeological site of Sialk, it is dated back to Neolithic.
The historical Fin Garden and the bazaar are the highlights of Kashan and a fine example of traditional Persian architecture. The bazaar has many interesting buildings inside it including several mosques, caravanserais, and water storages, and many more. This city is world-famous for its carpets, also has a name for silk, ceramics, copperware, and rose-water.
---