Abyaneh Village, An Old Village in the Heart of Mountain
Abyaneh Historical Village is one of the tourist and scenic attractions of Isfahan province. This beautiful village is world-famous for its traditional red and snail houses architecture as one of Iran's tourist attractions.
Abyaneh village is located at an altitude of 2222 meters above sea level and is very attractive due to its various historical monuments and local architecture. This historical village was registered as one of the national monuments of Iran on August 20, 1975. From that date until today, the importance of this region among tourists has increased more than before.
According to researchers and archaeologists, it can be said that Abyaneh is 1500 years old. This beautiful village has gained worldwide fame as one of the historical regions of Iran. With the same reputation and antiquity, register its name at the beginning of the top list of tourist areas of Iran.
Read More:
Climate of Abyaneh Village
Abyaneh village has a popular climate due to its very suitable geographical location and it can be said that it has a Mediterranean climate. This climate is in the heart of the desert of Isfahan province. It often rains in Abyaneh in winter and is in the form of snow. Snow remains on the high slopes of the village until spring and in summer there is no rain and the weather will be very hot.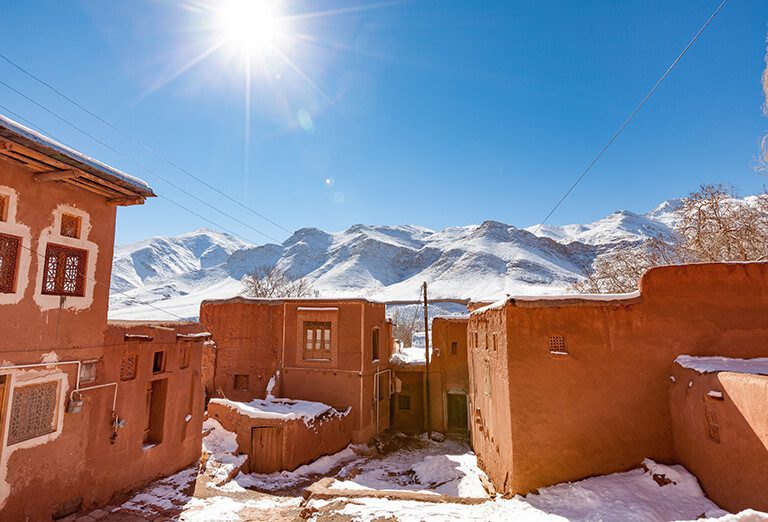 Architecture of Abyaneh Houses
Abyaneh village is built and designed in a stepped manner. The reason is that this village is located at the foot of the mountain and it was not possible to build linear houses. When you look at this village from a distance, you can see multi-storey villages that have been built in a strange and beautiful way. Floods in the valley and mountains overlooking the village of Abyaneh have also been effective in the gradual construction of the village.
The design of Abyaneh village in the heart of the mountains is such that it has protected this village from strong winds, and this issue has also played an important role in preserving buildings and controlling heat.
The first thing that impresses you when you enter Abyaneh and see its scenery are the red houses of the village; Structures made of red mud with white arches that have wooden lattice windows and retain their traditional appearance. The exterior of the houses is covered with red soil, the mine of which is located next to the village. Due to the color of this soil and the beautiful appearance of these houses, Abyaneh is known as the Red Village.
Climate is an important issue in the architecture and division of interior spaces of Abyaneh and attention has been paid to prevent energy loss in cold and hot seasons. The measures that have been considered for this issue are: The outer walls are covered with thick brick material, the walls and roof are thatched, the roofs are made of wood and Chezeh plant has been used as a moisture and heat insulation on it. Indoor spaces have several functions, such as winter and summer spaces. Small holes are made for lighting.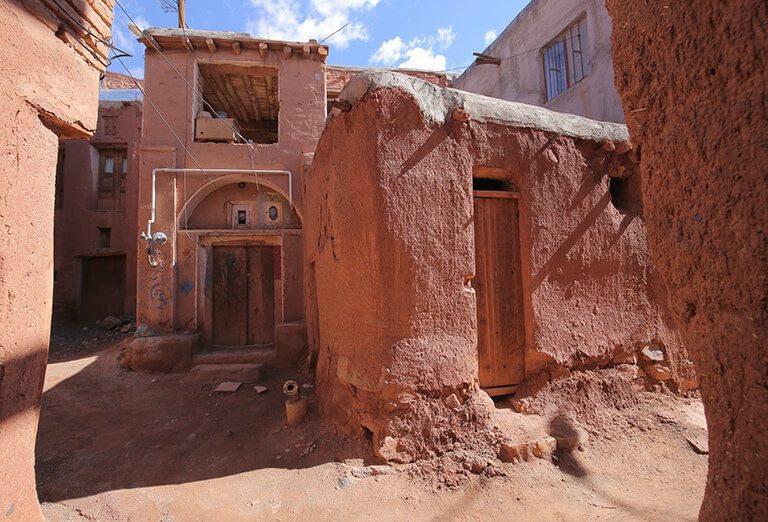 Tourist Attractions of Abyaneh Historical Village
Abyaneh village, in addition to its historical and beautiful texture, will have other tourist attractions for travelers, among which we can mention the monastery, as well as inns and ashtrays. The monastery, which belongs to the time of Shah Abbas Safavid, is actually a three-story building with a brick facade and in its head can be seen multiplicative arches and paintings related to the Safavid period. This monastery used to be a resting place for Safavid kings in summer and Sufis and dervishes used to gather there.
In general, there are two main caravanserais in Abyaneh village, which are located in the west of this village and in which barter transactions were carried out. In addition to these two main caravanserais, there are two other small caravanserais in Abyaneh village that you can also visit.
Abyaneh village also has three castles: In the southwest of Abyaneh village is Takht-e Haman castle, which was built about 200 years ago. In the northeast of Abyaneh is Hardeh Castle. And in the northwest of Abyaneh village, there is Paleh castle. During the rebel periods, people built these three forts to maintain their security and took turns guarding them.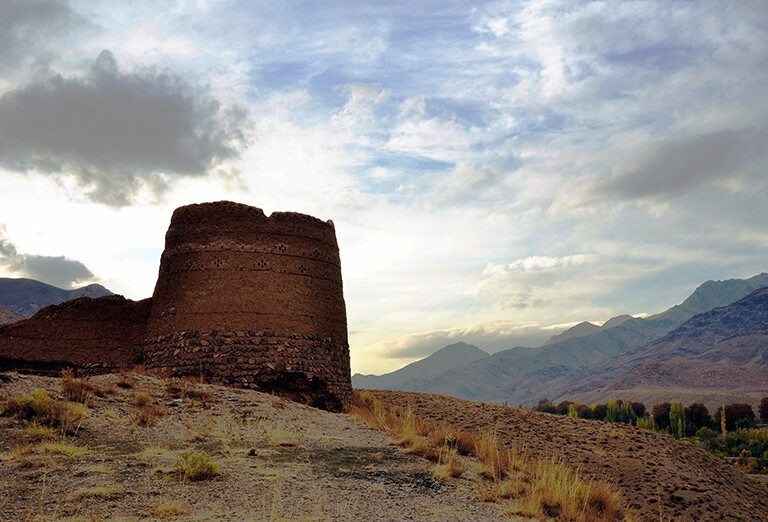 One of the oldest monuments in Abyaneh is the Harpag Fire Temple, which is considered to be an example of Zoroastrian temples that were built during the Sassanid era and, like other ancient monuments, are located on a slope. In the past, in the center of the fire temple, the fire that was lit by coal was always lit, and in addition to religious use, it was also used to guide the caravans.
Abyaneh fire temple can be seen from all sides of the village and the materials used in its construction are stone and mortar, only one small hall is left from the ground floor of the fire temple. The second floor was also the place of religious ceremonies.
Costumes of Abyaneh Village
Abyaneh traditional clothing is thousands of years old. This dress has not changed much from the past to the present and has been designed from the very beginning with a combination of cheerful and eye-catching colors. The ancients believed that the color of clothes should create mental vitality, not cause sadness and depression in humans.
Abyaneh traditional clothes are designed differently for men, women and children. These clothes for women include pants, shirts, and scarves. Pants used to be sewn with heavier fabrics and today they are sewn with fabrics that are lighter and one feels more comfortable in them. The pants are sewn after design and cut and then embroidered on it. Women's shirts are sewn in white, purple, red and yellow colors, and usually every girl in Abyaneh has a shirt of any color. After designing and sewing the shirt, depending on the tailor's taste, it will be embroidered on it.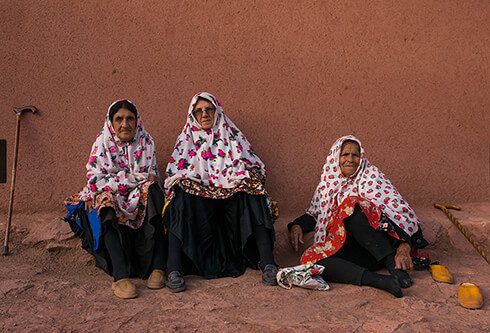 The headscarf is the main part of Abyaneh women's clothing because it was seen in women's clothing in the first encounter. The scarf is made of very delicate fabric with large red flowers, which also has a combination of green and yellow colors, in order to give more effect to the background color of the scarf. The most important feature of these scarves in the past was that despite frequent washing, their color did not change.
Abyaneh village is one of the masterpieces of rural architecture in Iran in different historical periods and always welcomes tourists from all over the world in all seasons. You can visit this red and Martian village by purchasing your tour from to Iran tour website and share your trip experiences with others.
---