If you're on the hunt for a truly unique travel experience, look no further than Tajrish Bazaar in Tehran. Located in the heart of the city's bustling Tajrish Square, this traditional bazaar is one of the oldest and most iconic in all of Iran. With a history that dates back centuries, this bustling marketplace is filled with all sorts of treasures and curiosities that are sure to captivate even the most seasoned of travelers. Whether you're looking for handcrafted jewelry, artisanal textiles, or just a taste of some of the best street food in the city, the Tehran Bazaar is the perfect place to get lost in the rich culture and history of this fascinating region.
For those interested in exploring Tehran's historical places, the Tajrish Bazaar is a must-see destination. From the intricate tilework and stunning architecture of the bazaar's domed ceilings to the vibrant energy of the vendors and shoppers, this unique marketplace offers an unforgettable glimpse into the heart of Iran's vibrant culture. Whether you're a seasoned traveler or a first-time visitor, the Tehran Bazaar is the perfect place to experience the magic of this ancient land and immerse yourself in the traditions of one of the world's most captivating destinations. So why wait? Book your trip today and discover the wonders of the Tajrish Bazaar for yourself!
Tajrish Bazaar History
With a history that dates back over two centuries, Tajrish Bazaar is a true testament to the rich cultural heritage of Tehran and Iran as a whole. Built during the Qajar dynasty, this iconic covered bazaar has stood the test of time, surviving wars, revolutions, and the ever-changing landscape of modern-day Iran. Today, it stands as a beloved national monument and a living testament to the ingenuity and artistry of the craftsmen and artisans who built it so many years ago.
As you walk through the bustling hallways of the Tajrish Bazaar, it's easy to imagine yourself transported back in time to the days of the Qajar dynasty. From the intricate tilework and architectural details to the rich aromas of exotic spices and teas, this ancient marketplace is a living embodiment of Iran's unique cultural heritage. Whether you're a history buff, an avid shopper, or just looking to immerse yourself in the vibrant energy of one of Tehran's most beloved attractions, the Tajrish Bazaar is the perfect destination for anyone looking to experience the magic of Iran's past and present.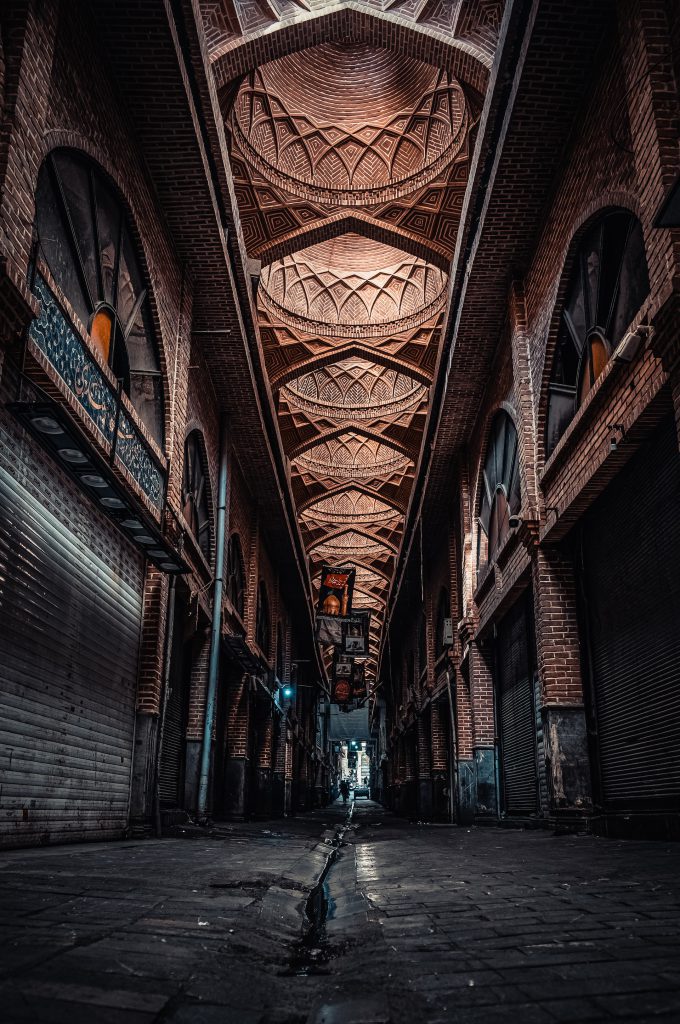 Architecture of Tajrish Traditional Bazaar
The intricate architectural details of Tajrish Traditional Bazaar make it a truly unique and mesmerizing destination to visit. The structure boasts an impressive 700-meter length and a staggering 400 stores within its walls. It's not just the sheer size of the bazaar that impresses, however, but also the attention to detail in its design. Walking through the covered passageways, visitors are transported back in time to old Tehran, with magnificent arches adorned with the names of stores carved above each one.
But perhaps the most remarkable feature of the bazaar is its traditional fretwork and tiling. The intricate designs and patterns are a feast for the eyes, and the use of color and light creates a truly magical atmosphere. The unique combination of ancient architecture, traditional designs, and modern-day hustle and bustle make Tajrish Traditional Bazaar a must-see destination for anyone visiting Tehran.
Where Is Tajrish Bazaar, Tehran?
Those are great suggestions for other attractions to visit while in the region. Sa'adabad Complex is a beautiful palace complex that includes 18 palaces and museums, covering a total area of 1.1 square kilometers. Niavaran Palace Complex is another palace complex that consists of several museums and palaces, including the Ahmad Shahi Pavilion and Niavaran Palace. Milad Tower is the tallest tower in Iran and one of the tallest towers in the world, offering an incredible panoramic view of Tehran. Tabiat Bridge is a modern architectural masterpiece that connects two parks, providing a beautiful place for walking, cycling, and enjoying the view of the city.
Tajrish Bazaar: A Photographer's Paradise
Step inside the Tajrish Bazaar and you'll find yourself transported to a world of vibrant colors, tantalizing aromas, and endless delights. With a profusion of exotic goods on offer, from dried nuts and dairy to pickles, spices, and sweets, this bustling marketplace is a feast for the senses. And as you navigate the roofed passageway, haggling with merchants and mingling with locals, you'll feel as though you've stepped into a living painting, with each vivid hue and sparkling light contributing to a dazzling tableau of life and commerce.
For those with an eye for beauty and a love of photography, the Tajrish Bazaar is an absolute treasure trove. From the fiery reds of freshly-picked tomatoes to the verdant greens of lush herbs and the golden hues of ripe fruits, the vivid colors and intricate textures of the bazaar's wares make for a stunning visual feast. And as the glittering lights of the stores dance off the shiny surfaces of polished fruits and glossy vegetables, it's hard not to feel as though you've stepped into a vibrant and lifelike fresco. With so much beauty and charm on offer, it's an experience you're sure to treasure forever.
Souvenirs from Tajrish Bazaar
Looking for the perfect souvenir to take home from your trip to Tehran? Look no further than the Tajrish Bazaar, a bustling marketplace filled with a seemingly endless array of unique and delightful goods. From delicate beads and intricate fabrics to shiny copper plates and knitted slippers, there's something here for everyone. And with friendly shopkeepers stacking their wares neatly on tinned trays and bags, the bazaar is a traveler-friendly haven that's perfect for browsing and exploring.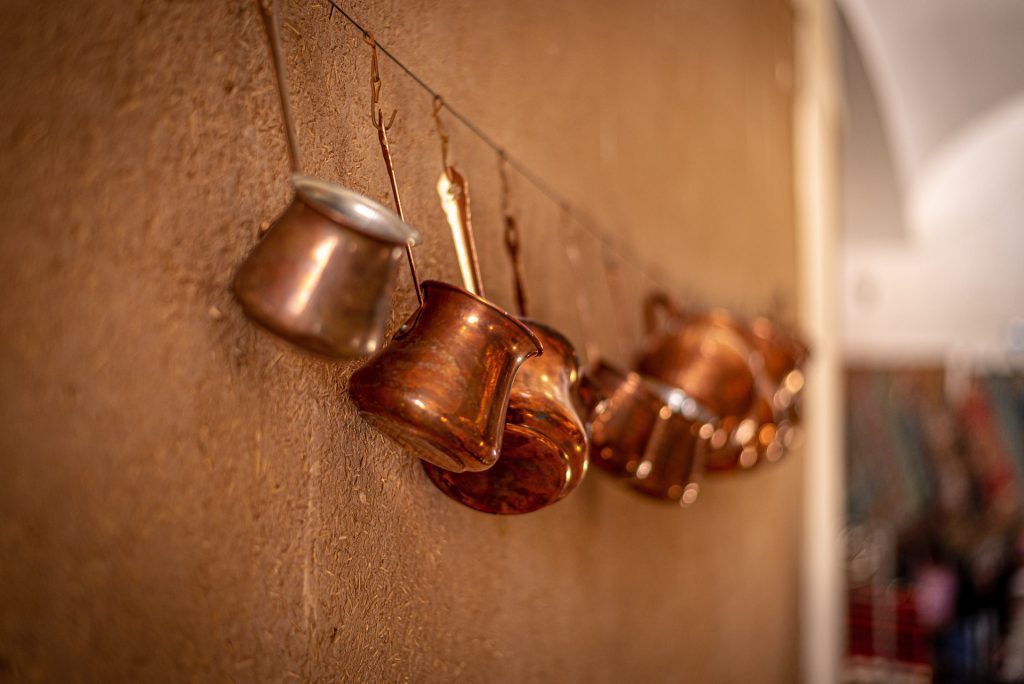 One of the most popular souvenirs to be found at the Tajrish Bazaar is embossed working plates, which feature intricate designs and patterns that are unique to this part of the world. With their intricate detailing and exquisite craftsmanship, these plates make for the perfect gift for a loved one or a cherished memento of your time in Tehran.
Nature Near Tajrish Bazaar
Tajrish Bazaar isn't just a place to shop and find souvenirs – it's also the perfect starting point for exploring the natural beauty of Tehran's surrounding mountains. Whether you're an experienced hiker or just starting out, there are plenty of trails and paths to explore, each offering stunning views of the rugged terrain and breathtaking scenery. And with a range of hiking gear available for purchase at the bazaar, you'll have everything you need to make the most of your adventure.
And if you're looking for a spiritual experience, be sure to visit the nearby Imamzadeh Saleh's Shrine, a beautiful and sacred site that draws pilgrims from all over Iran. With its stunning architecture and serene atmosphere, the shrine is a must-see destination for anyone visiting Tehran. But whether you're interested in hiking, shopping, or simply soaking up the rich culture and history of this amazing city, Tajrish Bazaar is the perfect place to start your journey. So why wait? Come and explore all that Tehran has to offer, and discover the magic of Tajrish Bazaar today!
Where to Eat Near Tajrish Bazaar
If you're looking for a bite to eat near Tajrish Traditional Bazaar, you're in luck! There are plenty of excellent dining options to choose from in the area. Two highly recommended places are Heeva Cafe Kebab and Shemroon Kabab, known for their mouthwatering kebabs. If you're in the mood for a more casual snack or meal, head to one of the cafes in Bagh Ferdows, where you can enjoy a range of tasty bites. For those craving Italian cuisine, Élysée Restaurant on the rooftop of Tandis Shopping Mall is a must-visit spot. With its charming ambiance and delectable dishes, it's sure to be a hit with foodies and casual diners alike. So whether you're in the mood for traditional Persian fare or something a bit more international, you'll find plenty of tempting options near Tajrish Bazaar.
Bazaars in Tehran
Apart from Tajrish Bazaar, Tehran has many other popular bazaars that are worth exploring. Here are some of them:
Grand Bazaar (Bazaar-e Bozorg): Located in the heart of Tehran, the Grand Bazaar is one of the oldest and largest bazaars in the Middle East. It is a labyrinthine maze of alleys and passages, with over 10 kilometers of covered walkways and more than 20 caravanserais.
Bazaar-e Vakil: This bazaar is located in the south of Tehran and is known for its traditional Persian architecture. It is a popular spot for buying handmade carpets, textiles, and other handicrafts.
Jomeh Bazaar: Held every Friday, Jomeh Bazaar is one of the largest and most popular outdoor markets in Tehran. It offers a wide range of goods, from clothes and accessories to fresh produce and household items.
Tehran Bazaar: Tehran Bazaar is a vast network of interconnected bazaars in the south of the city. It is known for its variety of goods, from traditional handicrafts and spices to modern electronics and clothing.
Exploring these bazaars can be a great way to experience the vibrant culture and history of Tehran. Each bazaar has its own unique character and charm, offering visitors a truly immersive experience.
Frequently Asked Questions about Tajrish Bazaar
Q: What kind of products can I find in Tajrish Bazaar?
A: Tajrish Bazaar offers a wide range of products, including nuts, dairy products, dried fruits, pickles, spices, and even gold and silver jewelry. You can also find fabrics, electronic devices, perfumes, toys, and many other items. Tajrish Bazaar is a perfect place to buy souvenirs and gifts for your loved ones.
Q: How old is Tajrish Bazaar?
A: Tajrish Bazaar has a rich history, dating back to more than 200 years ago, during the Qajar dynasty. The bazaar has been recognized as a national monument of Iran, and its unique architecture and structure are well-preserved.
Q: What is the best time to visit Tajrish Bazaar?
A: Tajrish Bazaar is open throughout the week, from early in the morning until late at night. However, the best time to visit would be during the daytime when the bazaar is bustling with activity, and the natural light streams through the skylights of the domed hallway.
Q: Are there any hiking trails near Tajrish Bazaar?
A: Yes, there are hiking trails near Tajrish Bazaar. The surrounding mountains offer beautiful scenic views, and you can find many hiking gears in the bazaar. Imamzadeh Saleh's Shrine is also located nearby, and many pilgrims come to visit it.
Q: Is Tajrish Bazaar easily accessible?
A: Yes, Tajrish Bazaar is easily accessible from any part of Tehran. Its location in the northern part of the city, in the Shemiran resort, makes it easy to reach by public transportation or taxi.
Experience the Best of Iranian Bazaars with Customized Tours from ToIranTour
If you are planning a trip to Iran and want to explore the best of Iranian Bazaars, it is recommended to book a customized tour package. By doing so, you will have the flexibility to plan your itinerary according to your interests and preferences. Iran is home to some of the most beautiful and historic Bazars in the world, and you don't want to miss out on the opportunity to explore them in detail.
ToIranTour is a professional tour operator that specializes in Iran tours and travel packages. We understand the needs of our clients and try to design the tour plan in a way that suits their interests and preferences. Our customized tours are tailored to provide our clients with the best experience possible in Iran. We believe that everyone has their own unique travel style and we strive to cater to that by designing tours that match their requirements.
Our Iran tours are designed to cater to a wide range of interests such as culture, history, nature, adventure, and cuisine. We offer a variety of packages that cover the most popular tourist destinations in Iran, including Tehran, Shiraz, Isfahan, Yazd, and many more. Our packages include all the essential elements of a comfortable and hassle-free trip, such as transportation, accommodation, and a professional guide.
So, if you are planning a trip to Iran and want to experience the best of Iranian Bazaars, book a customized tour with ToIranTour. We are here to help you have a great experience in Iran and create memories that you will cherish for a lifetime.