Iran, a Forgotten Place to Ski
Do you miss being in all-white heaven? Are you a ski-lover? Definitely many of you are ski-lovers and already missed skiing but the main question is "why Iran?"
For most people around the world, as outsiders, their first imagination of Iran is a dry country. This is true that two deserts (the Dasht-e Kavir and Kavir-e Lut) cover a great part of Iran but there are still mountains in Iran that are one of the highest ones in the world and are great places to ski in Iran.
Not only Iran has lots of mountains, but there are also equipped and standard resorts and off-piste areas. So, you can simply go for ski as an active entertainment or go for professional hiking and snowboarding as well.
It is also good to be mentioned that Iran has different places for various tastes and styles of skiing. Here are some brief information about Iran's mountains and ski resorts:
Alborz Mountains Range: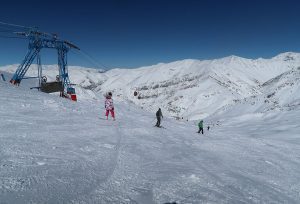 Alborz is a mountain range in northern Iran. It stretches from the border of Azerbaijan along the western and entire southern coast of the Caspian Sea. Then it runs northeast and merges into the Aladagh mountains in the northern parts of Khorasan. This mountain range is divided into the western, central, and eastern Alborz Mountains. Mount Damavand, the highest mountain in Iran, is located in the central Alborz Mountains.
Due to the great snowy winters of the Alborz Mountains, there are several ski resorts in different places of the range. Some believe that few of these resorts are among the bests around the world. If you are looking for entertaining environments and attractions that you can hang out with your family and friends and have some fun, here are our suggestions:
Dizin, Shemshak, Darbandsar, Tangeh Savashi, and Tochal mountains are for you. You can easily find these facilities there: restaurants, hotels, ski facilities. In addition, telecabin has it is own particular fans who would like to take the enjoyable moments of watching the whole city.
Other Mountain Ranges to ski in Iran:
Furthermore, there are many ski resorts in Zagros, Sahand, and Sabalan mountain ranges that are designed and well-equipped for professional skiers, hikers, and climbers. Meanwhile, they have the most picturesque views of all the time that you will be pleased to watch. Besides, there is a huge opportunity for beginners because they can participate in ski courses with athletic and high-experienced leaders.
Zagros mountain range begins in northwestern Iran and roughly follows Iran's western border while covering much of southern Turkey and northeastern Iraq. The highest point is Mount Zardkuh which is located in Iran's region.
There is another considerable question that may come to your mind: "When is the best time to travel to Iran for ski"? The answer is, from March and continues until the end of May. In these months the weather is strongly cold and snowy. So, don't forget to bring warm and cozy outfits.
I highly recommend that it would be better for you to bring your ski equipment if it is possible. Because if you want to try the off-piste ski rit and mountains that need more physical activities, there is no place for renting the equipment and it can cause you trouble.
Finally, I greatly suggest consulting with an accurate ski tour programming institute to rely on. So, you can have a flawless trip to Iran. You will be amazed and inspired by visiting Iran for skiing which gives you an unbelievable experience and brand new insights into a different culture.