Table of Contents
There are places all around the world where you can go to experience fear and surprise, even though we're used to watching scary movies from Hollywood on our TVs. Today, we want to introduce you to some of the scary and mysterious places in Iran that you can visit. Get ready to discover Iran's chilling and intriguing destinations that will leave you captivated!
First of all, we must say that any place that is presented as a strange or even scary attraction did not have a sense of fear from the beginning. There is no doubt that the time has passed for them to introduce these places to us today. But first, we must point out that all their fears and wonders are not just about the place itself. Rather, stories told from those places by locals or their ancestors were instrumental in portraying these attractions as scary or mysterious places.
However, it should not be overlooked that in the beginning, the locals also witnessed unusual events that added fear and mystery to the introduction of these places.
With the advancement of science and the study of researchers, the cause of some events in these places is clear and others remain undiscovered. Anyway, join us to introduce some of these scary and mysterious places in Iran to you briefly.
Darvish Khan Stone Garden
The surrounding garden, which is desert, has given it a terrifying feel that has contributed to its strangeness. Darvish Khan was a deaf person who had agricultural lands around Sirjan. In 1340 AH, due to land reform, Darvish Khan lost all his lands and this issue made him very sad and disappointed. After a few years, he, still saddened by the loss of his land, decided to take action as a sign of this unhappiness. And this is the beginning of the story of how a scary and mysterious place in Iran was created.
He planted large trees in the holes and continued to do so. When the planting of these withered trees was over, he began to hang stones from the branches of the trees. Eventually, the stone garden reached an area of 1,000 meters, and 180 trees were planted in it. The stones that hung like fruit from it, gave this garden a strange and sometimes terrifying feeling.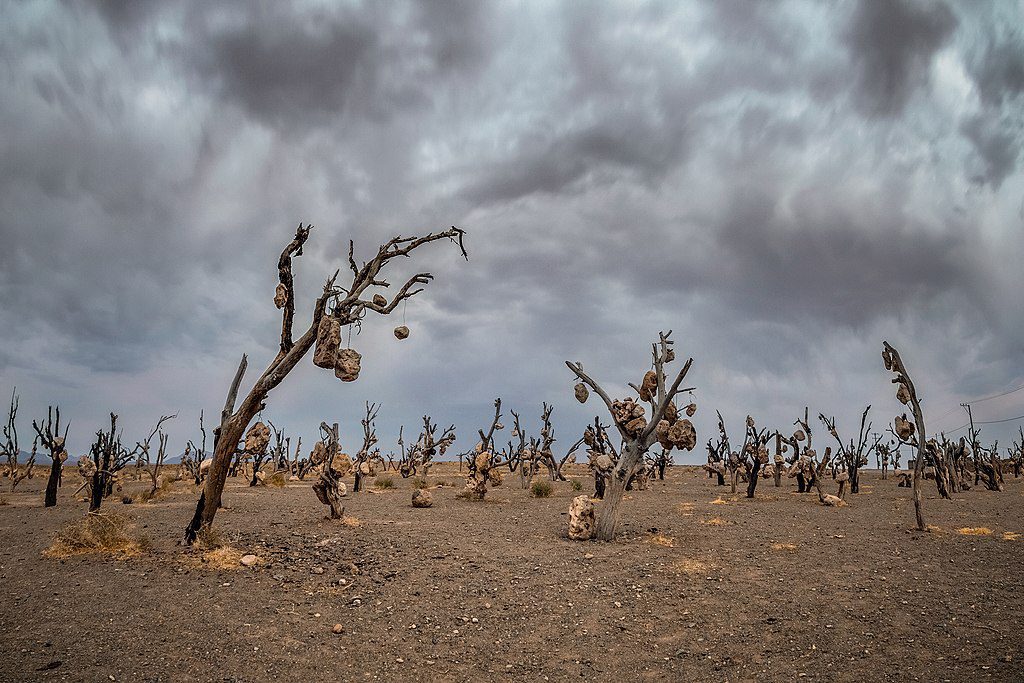 It is said that Darvish Khan was very pleased with this work and felt that the sign of his unhappiness and protest had led to a garden that would never be destroyed. His family says he may have had this kind of protest because he could not speak.
Apart from stones, he hung other things on the tree such as punctured tires, broken mirrors, springs, and anything else that seemed to exist, but most of the rock garden in Sirjan is made up of the same stone fruits.
The Sarborj Forest or Screaming Forest
This forest is quite normal and calm during the day. But at night, a strange and terrible sound is heard from the trees of this forest. A whistling or screaming sound is heard as soon as it gets dark and continues until dawn. Hearing a scream in the forest may be one of the scariest things that can happen to people who decide to stay overnight in the forest. Sarbarj forest of Mashhad is one of the most mysterious places in Iran.
Some residents of Sarbarj village hear these horrible noises from locusts that have invaded the area and take refuge in the trees and surrounding meadows at night and make noise. Some have attributed these sounds to unknown factors, including climate change.
The sounds that can be heard from the trees of this area; It bears no resemblance to the sound of crickets or the rushing winds of a tree. Because when these sounds are heard, even the leaves of a tree do not move due to the wind. Some people consider the Sarbarj forest in Mashhad to be cursed and say that this forest is a place where goblins and demons live.
According to them, demons and cursed spirits roam the forests at night and make annoying noises. But it should be noted that no abnormal phenomena have been observed in the region. The forest is also located in a river valley, and this river is seasonal but since the year when these sounds are heard from the forest (2011), the river water has flowed and remained. This has attracted people's attention and, consequently, their fear of this amazing phenomenon. The horror can attract curious tourists.
Valley of the Stars
The Valley of the Stars, known as the Passage of Ghosts, is located 5 km south of the coast of Qeshm Island and is definitely one of the scary and mysterious places in Iran. This beautiful valley is one of the best places for astronomers and geologists.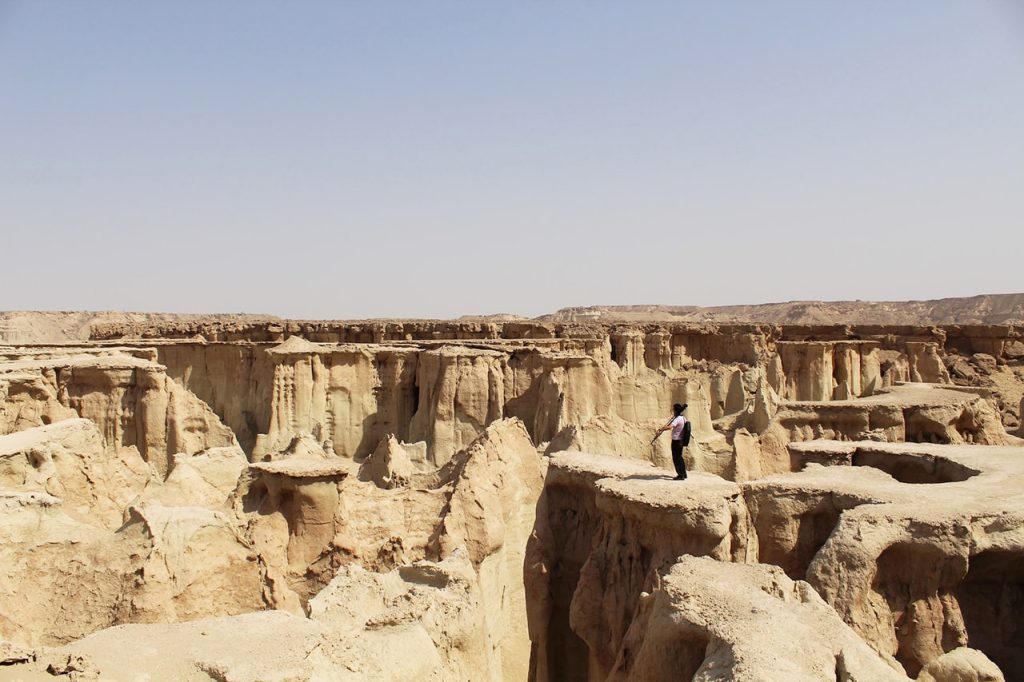 The Ghasabe Qanats of Gonabad
This weird qanat is an ancient qanat with strange features and is 2500 to 2700 years old and is among the Persian Qanats that are registered in UNESCO World Heritage Site. The qanat also has two underground corridors with a length of 33 km and very deep wells.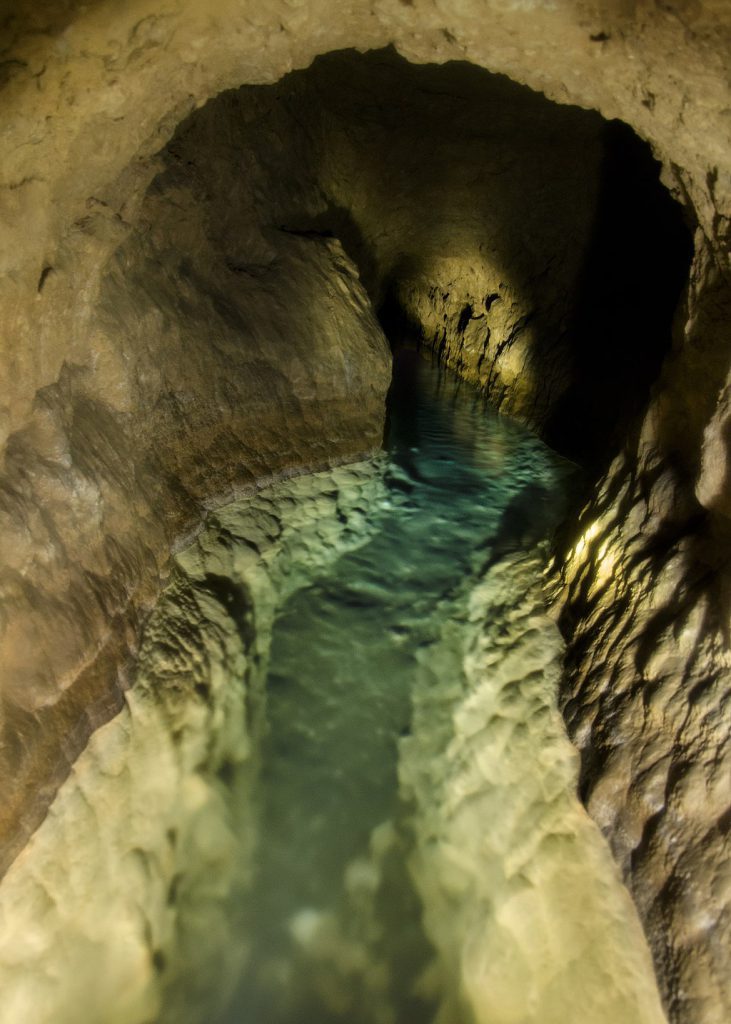 This qanat can be considered the longest qanat in the world because it has been dug 33 km. That is why the locals say that this aqueduct was dug by demons!
In addition to some mythological and historical stories that indicate the ancient age of this qanat, archaeologists who have made this qanat their subject, using pottery collected from the mouths of the main wells, the antiquity of this qanat. This strange qanat dates back to the reign of the Achaemenids.
Rig-e Jenn Desert, Dasht-e Kavir
Rig-e Jenn Desert is the most amazing and scary region in Iran where many unanswered events have taken place and many living beings have been sent to their deaths. However, it is still a favorite of many adventurous tourists. The small and big events that have happened in the Rig-e Jenn desert have made it a question mark in the minds of many and have made it one of the scary and mysterious places in Iran.
Rig-e Jenn desert with an area of 3800 square kilometers, is an area full of sand dunes in the central desert of Iran. This vast area has no water wells or water sources and therefore has never been a favorite for caravans. Nevertheless, adventurous tourists love this area, and in the last few years, tourists, many researchers have visited it.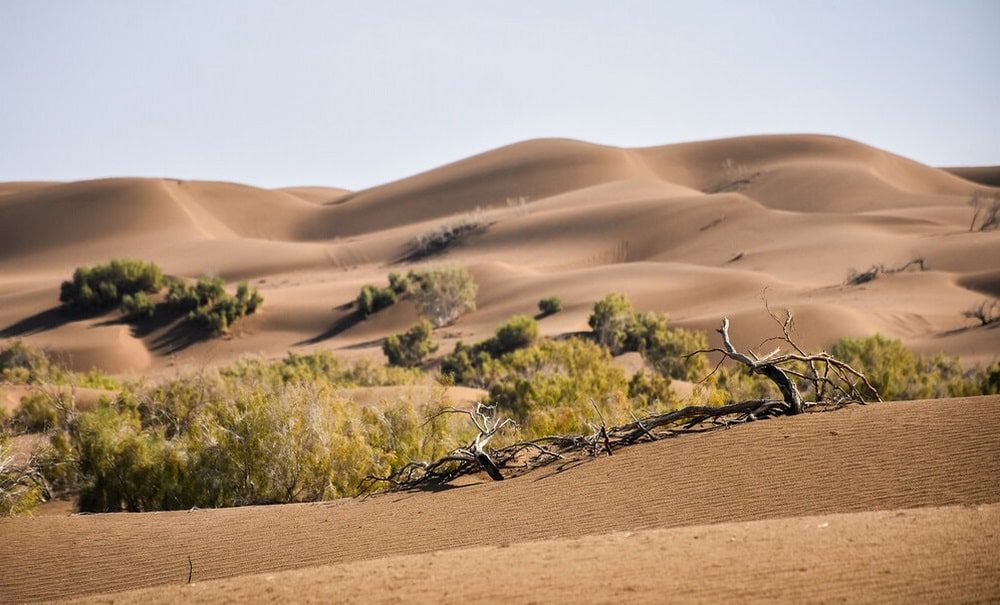 The natives of the desert believe that the sand dune desert is a cursed area that is ruled by evil spirits and demons. That is why everyone who goes to the sand dune will never return. The Dasht-e Kavir desert is full of salt marshes that devour people. The desert is also called the Bermuda Triangle of Iran.
One of the worst things that can happen to an uninitiated tourist is to sink into the mud, which can easily kill a person. For this reason, for several years, no one dared to travel to this desert and discover its secret.
The Parau Cave
In the depths of one of the mountains of Kermanshah province, there is a cave that is known as the most dangerous cave in Iran and it made this cave one of the scary and mysterious places in Iran. Here, a high mountain hides a cave, which is the deepest cave in Iran. Parau Cave is 1454 meters long and 751 meters deep and 26 wells are located in different parts of it.
In this cave, there is running water that has flowed from the melting of the underground glaciers of Parau Cave, and that is why the name of this cave has been given to Parau which means full of water.
The paths of this cave are very difficult to cross, except for the cold weather inside the cave and its hard roads, the rough and porous wall tears the clothes of the cavers and this causes cold water to reach their bodies and the difficulties of navigating the cave become more than before.
The difficulty of passing through the paths of this cave has caused 5 cavers to fall inside this cave and be killed. If you step into this cave one day, you will see signs along the path of this cave that indicate the place where these cavers fell.
The Fairy Chimney (Hoodoo)
The phenomenon of Fairy chimneys is one of those attractions that can be seen in different parts of the world such as Zanjan in Iran. In geological terms, the natural phenomenon of the smoker is called "hoodoo".
Hoodoo is actually a mushroom-like stone that has been shaped like a tall and thin minaret by erosion and another stone has been placed on it. In Zanjan, these hoodoos are called " Fairy Chimneys". You may ask why the locals call these chimneys " The Fairy chimneys "? Because in the past, the construction of any building that was difficult for humans was attributed to fairies and demons.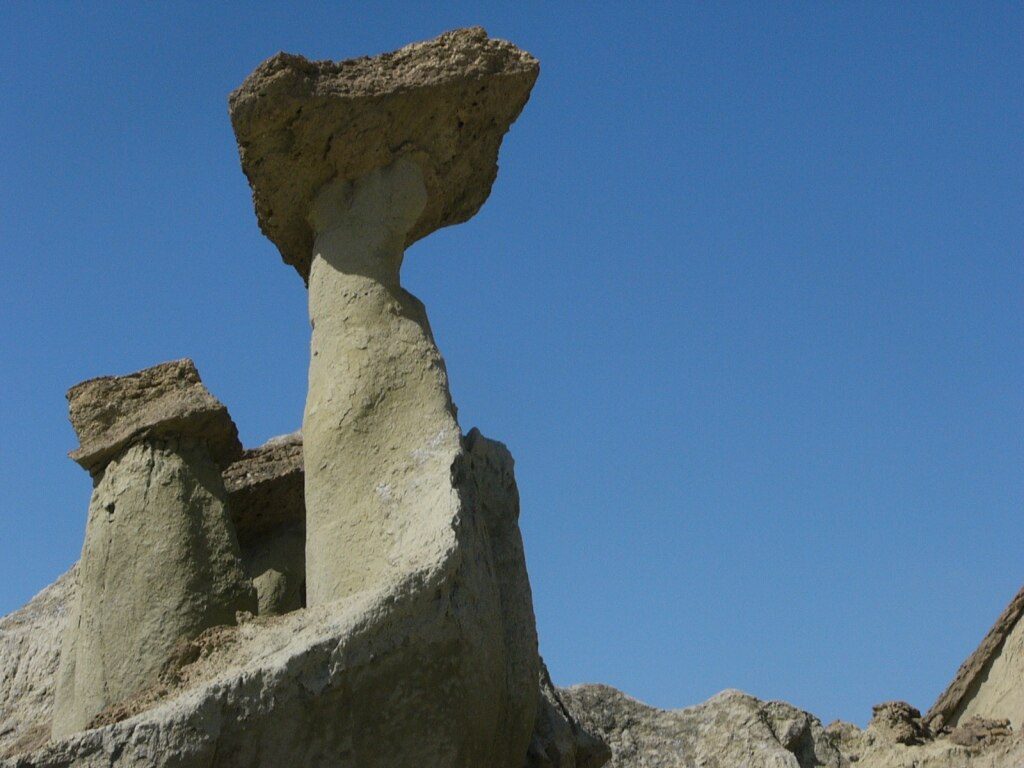 You can also experience an exciting journey by listening to old local tales, legends, and superstitions and going to eerie and scary places in Iran. To experience horror and excitement, you do not necessarily need to sit at the foot of horror movies, you can also have a journey full of excitement and horror. If you are curious and excited or interested in seeing mysterious destinations, you can design your desired Iran tour package through the link below and see these scary and mysterious places up close.
FAQs about Mysterious Places in Iran
Q1. What is Darvish Khan Stone Garden?
A1. Darvish Khan Stone Garden is a unique attraction in Iran created by a deaf man named Darvish Khan. After losing his agricultural lands, he expressed his unhappiness by planting large trees and hanging stones from their branches. The garden spans an area of 1,000 meters with 180 trees and stone ornaments, giving it a strange and sometimes terrifying ambiance.
Q2. What is the Sarborj forest or Screaming Forest?
A2. The Sarborj forest, also known as the Screaming Forest, is a mysterious place in Mashhad, Iran. During the night, eerie and terrifying whistling or screaming sounds can be heard from the trees. These sounds are attributed to locusts that invade the area and take refuge in the trees, creating a chilling atmosphere. Some locals believe that demons and cursed spirits inhabit the forest, adding to its mystique.
Q3. What is the Valley of the Stars?
A3. The Valley of the Stars, also known as the Passage of Ghosts, is a captivating destination located on Qeshm Island in Iran. This valley's unique geological formations and beauty have led locals to believe that a fallen star shaped the landscape. It is believed that supernatural forces and even extraterrestrials frequent the area, making it a mysterious and intriguing place, particularly appealing to astronomers and geologists.
Q4. What are the Ghasabe Qanats of Gonabad?
A4. The Ghasabe Qanats of Gonabad are ancient underground aqueducts in Iran, estimated to be 2500 to 2700 years old. This qanat system possesses unusual characteristics, including two 33-kilometer-long underground corridors and deep wells. The locals have attributed the construction of this remarkable qanat to demons due to its extraordinary length and historical significance.
Q5. What is the significance of Rig-e Jenn Desert, Dasht-e Kavir?
A5. Rig-e Jenn Desert, situated in the central desert of Iran, is renowned for its breathtaking sand dunes and enigmatic events. The desert holds a reputation for being a cursed area ruled by evil spirits and demons. It has witnessed unexplained phenomena and unfortunate incidents that have intrigued adventurous tourists and researchers. The desert's mysterious reputation has earned it the nickname "Bermuda Triangle of Iran."
Discover Mysterious Places in Iran
If you're eager to embark on a journey to explore the captivating and mysterious places of Iran, it is highly recommended to plan your trip with an active style and customized tour. By opting for a customized tour, you can ensure that your travel experience aligns perfectly with your preferences and interests, allowing you to make the most of your time in Iran.
When it comes to organizing remarkable Iran tours and travel packages, ToIranTour is your go-to destination. With their expertise and professionalism, they specialize in designing tour plans that cater to individual travelers, ensuring a memorable and fulfilling experience.
Iran Tours: Crafting Your Unforgettable Adventure
At ToIranTour, we understand that every traveler has unique desires and expectations. That's why we offer custom-tailored tours to Iran, allowing you to explore the mysterious places that intrigue you the most. Our team of experienced professionals is dedicated to crafting an itinerary that aligns with your interests, ensuring that you have an unforgettable adventure while discovering the secrets of Iran's mysterious attractions.
Customized Tours: Unveiling Iran's Mysteries
With our customised tours, you have the freedom to choose the destinations you wish to explore and the activities you'd like to engage in. Whether you're fascinated by Darvish Khan Stone Garden, the Sarborj Forest, the Valley of the Stars, the Ghasabe Qanats of Gonabad, or the Rig-e Jenn Desert, we will curate an itinerary that takes you on an extraordinary journey through Iran's most enigmatic places.
Our knowledgeable guides will accompany you throughout your trip, providing insightful information and historical context to enhance your understanding and appreciation of these mysterious sites. With ToIranTour, you can rest assured that every aspect of your trip will be well taken care of, allowing you to immerse yourself fully in the captivating mysteries of Iran.
Set off Your Mysterious Adventure in Iran
Whether you're a curious traveler seeking thrills and chills or an avid explorer of ancient wonders, ToIranTour is here to help you have an extraordinary experience in Iran. We invite you to embark on a personalized journey through the mysterious places of Iran, where the past intertwines with the present, and the secrets of the land come to life.
Contact us today to start planning your customized tour and uncover the hidden treasures of Iran. Let us guide you on an unforgettable adventure, tailored to your preferences, ensuring that your trip to Iran becomes an indelible memory etched in your heart forever.
---