Coronavirus and Travelling
It is normal to ask How to travel safely to Iran during the Coronavirus with a little anxiety due to the current situation in Iran, but do not worry! If you act with full knowledge and information, you will definitely have a safe journey ahead of you and you will realize that even in today's corona world, you can travel with complete confidence and go on foreign trips.
Coronavirus, or COVID-19, is a new generation of coronavirus that has spread over the past year. An important issue with coronavirus that distinguishes it from other types of coronaviruses is the rapid growth and severity of the virus epidemic.
Read More:
Tips regarding Travelling to Iran during Covid-19 Pandemy
Follow these tips before you start your trip to make sure you don't run into any problems during the trip:
1. As flights may be canceled by airlines at any time in the current situation, try to read the cancellation rules when buying a plane ticket to buy a ticket that can be refunded for cancellation fees.
2. Try to reserve your plane ticket and hotel reservation through agencies that will support you until the end of the trip. For example, we suggest that you use the ticket purchase and hotel reservation services of ToIranTour company so that if you have any questions or problems about your trip, the experienced support team of this company will guide and support you 24 hours a day.
3. Before you travel, be sure to check with the agency you are traveling with to keep you informed of the latest entry rules and safety restrictions during the Coronavirus.
4. Check all the rules you need to travel to your destination and be informed of the latest changes and restrictions.
5. Be sure to get a medical card before the trip that lists any illnesses or allergies you have, the medication or medications you are taking, your blood type, and essential contact information.
6. Bring a copy of your travel documents and travel health insurance that covers all medical and safety issues during the trip, along with essential contact information.
7. Try to get to the airport a little earlier. Because under normal circumstances, usually at the check-in section of the airport, you will be delayed longer than usual to check the documents you need to bring with you, or if it is possible for you, do it online.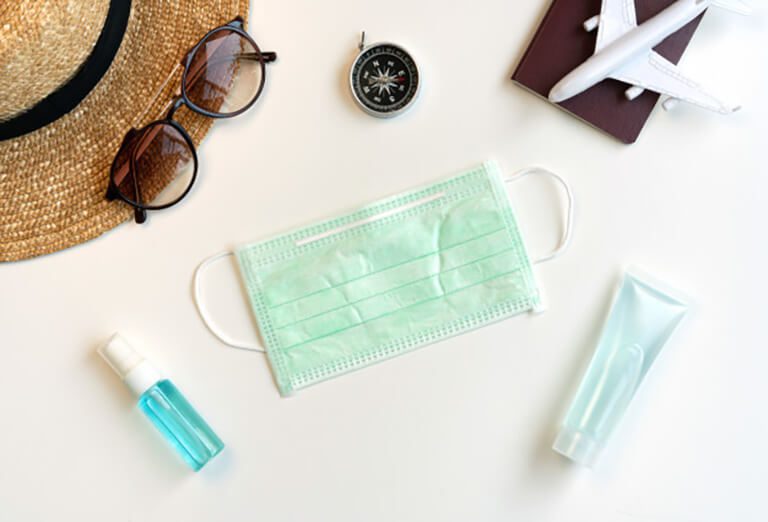 Hygenic Tips to follow during your trip to Iran
1. The first and most important health advice is to wash and disinfect your hands regularly with soap and water. If you do not have access to detergents or you are not sure about the hygiene of the detergents between the roads, be sure to disinfect your hands with antiseptic gel or alcohol. Alcohol pads, antiseptic gels, and wipes are a must on the trip. Do not forget to have it with you.
2. Try not to be in public or crowded places. Keep your distance from others, and if you see someone with cold or coronavirus symptoms, be sure to be at least one meter away from them.
3. Do not touch objects in public places. Buses, public transport seats, doors and walls, and anything you suspect may be contaminated is on the list.
4. An important tip! Bring dry food and home-cooked food with you so you don't have to stop at restaurants along the way. If for any reason you have to prepare food from restaurants along the way, make sure the restaurant is healthy and clean.
5. Never touch your eyes, mouth, or nose when your hand is not disinfected.
6. So if you cough or sneeze, hold the inside of your elbow in front of your mouth and be sure to stay away from those who cough or sneeze.
7. Do not forget to bring all the necessary hygiene items, including masks and hand sanitizers.
8. If you feel a little sick, do not travel. Many airports and airlines measure your body temperature at various stages before boarding, so if you think you may not be allowed to travel at any stage, avoid traveling.
9. Since some airlines do not offer catering services in the current situation, bring some food with you on board.
One of the most important things to consider when traveling is the level of our immune system. The coronavirus occurs with much milder symptoms if the person's immune system is high and is eventually easily treated. Therefore, it is necessary to pay attention to the level of our immune system these days, when traveling due to climate change and living conditions, the immune system may change and weaken a little and it is important to be able to maintain a high level of immunity with the help of healthy nutrition. Eating foods rich in vitamins C, B, D3 and E can help boost the body's immune system.
Based on evidence and research, wearing a mask is the best way to prevent coronavirus. In addition, it is one of the easiest ways to reduce the risk of getting sick during the trip. Many airlines require a mask. In many cases, people who intend to travel without a mask are dealt with severely. For example, they are barred from flying with the airline. Many airlines have temporarily removed food and beverage services and any unnecessary services that may increase the risk of contracting the disease.
The outbreak of the coronavirus has changed the whole world in a short period of time, and these changes will definitely have long-term effects. Traveling, in particular, was one of the things that most affected the virus, but today, with the discovery of the Corona vaccine, travel has become easier and people can travel more easily by injecting this vaccine.
---