Why Christmas in Iran?
Do you want to have a different Christmas?! Are you an adventurer who wants to discover unknown cultures?! Are you tired of classic destinations for New Year's vacations?! Have you ever heard about Armenian Christians in Iran? What about Vank Cathedral? Well, we recommend you to celebrate Christmas in Iran!
It sounds a bit weird to celebrate Christmas Eve in a Muslim country like Iran. But there are lots of things that most people do not know about Iran. For example, in the first decade of the 16th century, Shah Abbas the Great obligated Armenians to move from their land (Jolfa) in the borders of the Iran-Ottoman Empire to the mainland. It is said that the reason was to protect them from the Ottomans' attacks.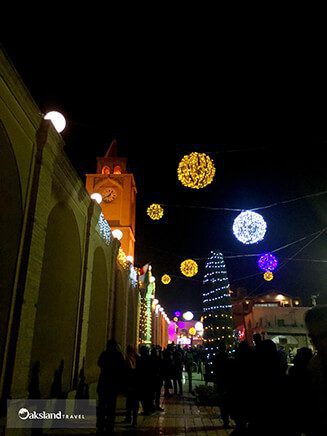 Since that time, they are living in Tehran, Isfahan, Azerbaijan, and other provinces of Iran. Even the new generation of Irano-Armenians still speak their own language and practice Gregorian Christians religion. Shah Abbas the Great even built a neighborhood in Isfahan (capital of Iran by the time). He named it "New Jolfa", after the Armenian's homeland.
New Jolfa is still one of the most beautiful neighborhoods of Isfahan. People go there to visits its numerous churches and historical houses from the 16th-17th centuries. They also can enjoy spending their time on window shopping and end it up in the little cute cafes and restaurants in Jolfa.
Where to go to celebrate Christmas in Iran?
Iran's Christian citizens celebrate Christmas Eve every year in Tehran, Tabriz, Shiraz, etc. But Christmas in Jolfa, Isfahan, is the best! The whole neighborhood with its old tiny streets shines due to the lights and Christmas decorations. Even Muslims go over there to celebrate the Christian New Year with their Christian fellow-citizens. This cosmopolitanism culture is shown in Vank Cathedral better than anywhere else. Vank Cathedral and churches in Isfahan are a mixture of European and Irano-Islamic architecture in the 16th and 17th centuries.
Armenians, celebrate Christmas on January 5th. Their traditional Christmas dinner is Kuku and rice. After having dinner with their families and beloved ones, they go to Vank Cathedral to celebrate Christmas together. Over the last two-three years, with the improvement of tourism facilities and advertising, people come to Iran to discover this relatively small Christian society and tens of Irano-Christian remains and monuments.
So, if you like to experience a different New Year's vacations this year and discover a new society with a unique culture, you still have time to benefit our New Year's special offer with a 10% discount!
---
For more information regarding Iran Tourist Visa, review these articles: