Bisotun, A UNESCO World Heritage Site
At the skirt of Mount Bisotun along the ancient road of Babylon to Medea (i.e., Hamadan) sits the cultural and historical site of Bisotun, which shines like the crown of Kermanshah.
After traveling 25 km east of Kermanshah, we reach Bisotun. It was particularly popular among the people, kings, and rulers, in ancient times, due to its geographical location, favorable climate, proximity to the Mesopotamia region, and the sanctity of Mount Bisotun.
Mount Bisotun is the place where has engraved one of the UNESCO World Heritage Sites, the Bisotun Inscription, on its great wall. Bisotun has also placed other historical monuments of different eras in its area. So, join ToIranTour to have a short trip to Kermanshah province and visit the Bisotun historical site.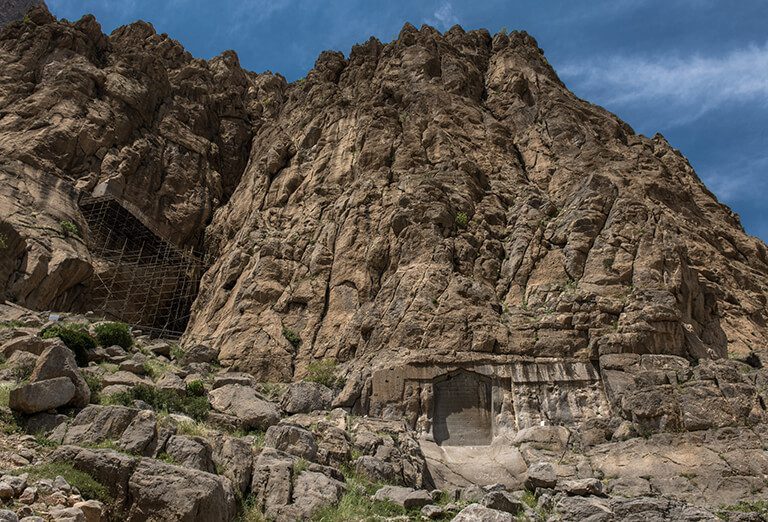 Bisotun in General
The Bisotun area houses many historical sites from prehistoric times to pre-Islamic and post-Islamic in its heart. Findings estimate the history of seventy thousand years for Bisotun, which seems that life went on consistently in the whole history of this place.
Traditionally called Bagastana, meaning the place of god, Bisotun was known as a holy place among Iranians. The reason is that the water; which is a symbol of purity and abundant light, flows out of the heart of Mount Bisotun. Thus, because of the significance of the location of Kermanshah, Bisotun Rocky Mountains, and the great works of his Aryan ancestors, Darius I the Great chosen this place for his valuable inscription of Bisotun.
Bisotun Inscription
Engraved on the towering limestone cliffs, at an altitude of 100 meters above ground, a series of bas-reliefs and inscriptions speak of war and dignified victory in ancient Iran. Built by order of Darius the Great, Bisotun Inscription was majestically carved in three cuneiform script languages: Old Persian, Elamite, and Babylonian.
It tells the story and history of Darius overcoming the usurper Gaumata, defeating his rebels, and assuming the throne. Accompanying inscriptions, a life-sized bas-relief portrays Darius wearing Persian clothing, holding a bow, and treading on the chest of Guamata, the Median Magus, with a majestic stature.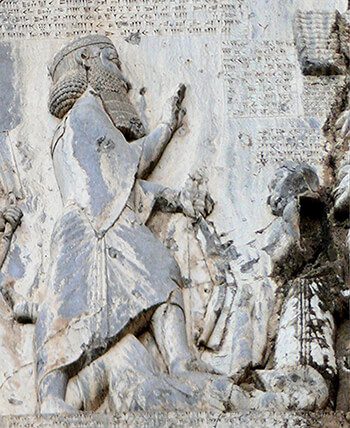 Altogether, writing a magnificent historical inscription and engraving reliefs at such an inaccessible height, reveal that King Darius carved these statements and reliefs not only for the people of his time but also for posterity. Consequently, as the largest, most remarkable, and first known Iranian inscription, Bisotun Inscription was inscribed on the UNESCO World Heritage List in 2006.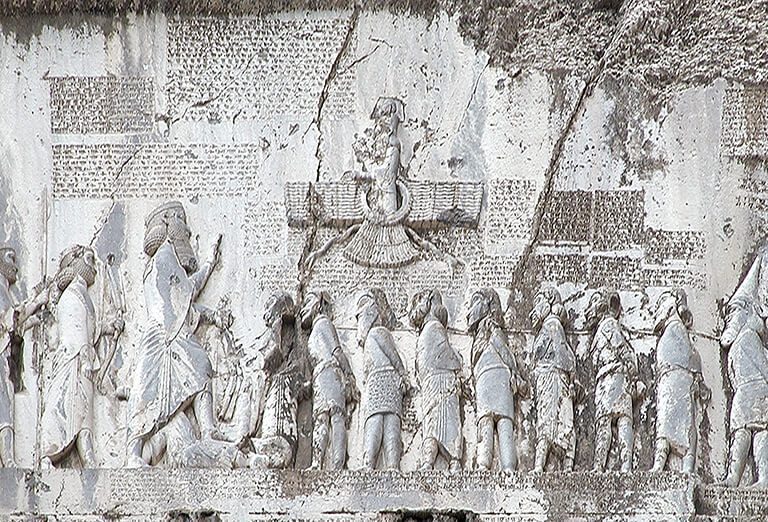 Nowadays, because of the scaffolding, inscriptions and bas-reliefs remain hidden. To gain a clear view of this site, it is necessary to select a relatively far location and, if possible, bring a binocular with yourself.
However, the Bisotun complex, home to various caves, monuments, and inscriptions, is scenic to explore. In the following parts, we will discover several together.
Other Monuments in Bisotun Complex
Apart from the famous Bisotun Inscription, other historical monuments await visitors to be explored. Among them, the statue of Hercules, with its heroic figure, is the point of interest. Leaning on his left side on a piece of lion skin, the Hercules statue holds a cup of wine in his left hand. However, today, this statue is different from the original one since the original head has been replaced with a limestone head. Thus, the cultural heritage treasure is the new home to the original head.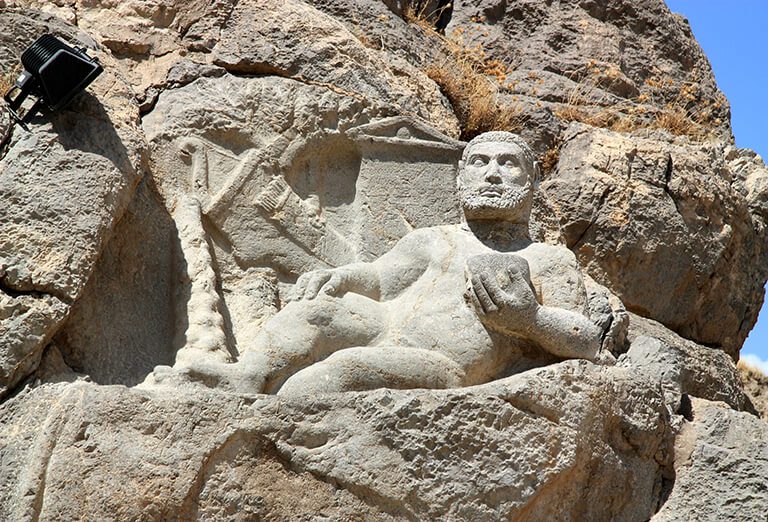 Also, since this statue, like other Greek statues, was naked, some parts have undergone changes. However, despite all that, the Hercules statue sits imposingly on the rocky ledge as before. Besides, an inscription in Greek, with carvings of bows and arrows, and an olive tree have been carved behind the statue of Hercules.
Bisotun complex not only caters to history enthusiasts, but it also offers a place to adventurers, athletes, and rock climbers as well as fans of literature.
On the west of Darius relief and at the foot of Mount Bisotun, a huge carved wall can be seen that has secreted tens of riddles and narrations in its heart. Farhad Tarash is its famous name. Some attribute its construction to the Achaemenid era, while some believe that it belongs to the Khosrow Parviz Sassanid era.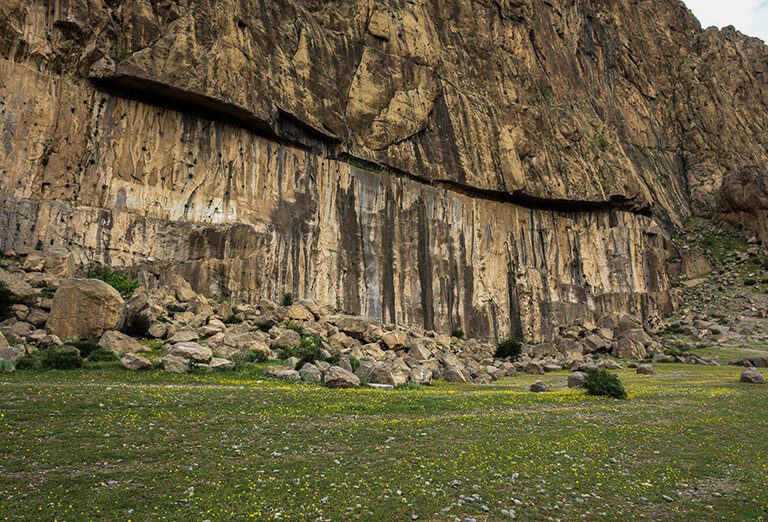 Moreover, many Iranians consider this to be the work of Farhad, the protagonist of Shirin and Farhad's legendary tale in Nizami Ganjavi's masterpiece. This famous poet has mentioned Mount Bisotun in his poems in such a way that has fascinated the lovers of literature in Bisotun. Nowadays, this gigantic wall attracts lots of rock climbers every year and is used for rock climbing competitions.
Standing on the top of Mount Bisotun, one would see an enormous plain, in the heart of which azure waters, surrounded by tall plane trees, stand out. At the foot of Mount Bisotun lies a stunning natural phenomenon, known as Sarab-e Bisotun.
Collecting the natural spring water, the headwater of Bisotun irrigates a bunch of plants, waters numerous birds, and vitalizes families of fishes. These features have made Sarab-e Bisotun a pleasant place for people to spend an enjoyable time with their family and friends. Furthermore, Sarab-e Bisotun hosts a fishing festival every year, which, along with traditional music, fills the space with crowds.
Khosrow (Sassanid) Bridge, Bisotun Cave, Mehrdad II, and Goodarz II reliefs, Ilkhanid Caravanserai, Bisotun Caravansary, Tappeh-ye Naderi, Royal Road, Parthian Temple, and many historic buildings are other impressive monuments that add a high value to Behistun historical site.
To Iran Tour Last Word
Bisotun, a mountain that has always been considered by people in the past centuries, is still one of the most significant tourist attractions in Kermanshah province. At the foot of this mountain along the old road linking Kermanshah to Hamadan rests a valuable collection of history and civilization. The most prominent of them is the Bisotun Inscription, which brings the grandeur of this complex to its peak.
The worldwide profile and importance of Bisotun Inscription and the astonishing beauty of this complex make it a must-see in any full tour of Iran. Therefore, ToIranTour suggests the following tours for you, in case this content inspired you to explore the history in the heart of nature. If you've visited this majestic complex before, share your experience with your ToIranTour friends.
---